So it's that time again! Time for the Friday Fill-in. This week I've decided to jump on with 5 Question Friday as well. I hope it's okay to put them in the same post.
Let's start with the Mil Spouse Friday Fill-In hosted by
Wife of a Sailor
.
This week's questions are:
1.Tell us about your dream job… one that you could do regardless of pay.
This one is actually pretty tough for me to answer seeing as how I'm still trying to figure out what I want to do when I grow up. I know, I know...I'm 30! Shouldn't I know already? Yup. I should. But I don't. I feel as though I should do something creative. I don't think I was meant to do something behind a desk. Once upon a time I wanted to be a therapist. I've changed my mind. My current thought is to be an English Literature Professor. But we'll see. We have to sit still long enough for me to go to school somewhere before I figure out anything. Yes, I have a B.S. in Psychology...but that's not what I want anymore. There are too many options and too many things I'm interested in!
2. What is your most prized material possession (kids and pets don't count!)?
I would probably say that this is my quote journal. I have a really pretty journal that I bought specifically in which to write quotes, song lyrics, statements, anything that touches me...I write in that book. Those are the things that stand out to me and
speak
to me. It means so much to me and I would be devastated if I lost it.
3. What has been your favorite duty station and why?
Though I didn't really care for Ft. Drum I really enjoyed living in NY. The first four years we lived there we didn't live near the base. We lived down in Syracuse. It was our first duty station and that's where The Hubble and I really grew into adults and a married couple. I have nothing but fond memories of Syracuse. Well, unless you count the blizzards, The Hubble's hour and a half commute (each way), and the fact that we lost a car to the combination of a blizzard, the commute, and just for fun we threw in a semi trailer truck. Good times, good times...
4. What is your least favorite household chore?
This one is a toss up between toilets and floors. Ya know...I can handle toilets. You spray in some stuff and use a brush with a handle. But the floors. There's the sweeping (or in my case getting out my huge ass vacuum and attaching the tile sweeper attachment) then there's the mopping part. That include a mop, a bucket and a chemical, and back strength. It's a lot of work and I'm just not into that...
5. If you could give one piece of advice to a teenager today (not specifically a MilTeen), what would it be?
Close your legs! It's not worth it. Or if you are going to do stuff, please be smart about it. That baby that comes in 9 months is not going to care for you. You have to care for it! And if you don't want to...do the baby a favor and give it to a loving family who will care and love for it. That baby is not here to solve your problems! And God knows there are enough deserving people out there who can't have babies that your snivelly ass doesn't need to abuse and neglect and do a crap job raising this one because you are too selfish! (hee hee...sorry...I have some strong feelings about this...I don't know if you could tell)
Well that's it for the Mil Spouse Friday Fill-In. If you want to join in the fun, head over to
Wife of a Sailor
and join in!!
Now for the 5 Question Friday which is hosted by
My Little Life
. I've never done this one but I know of a few people who do so I thought I would try it out. So here goes...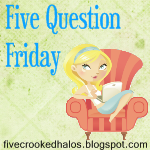 1. What is one thing you miss most about your childhood?
I miss the summers at my grandma's house. We would go there every summer. It was filled with fun, laughter, great food, and just awesome memories. Pretty much all my happy childhood memories are there...in Lawton, Oklahoma. I miss her so much...
2. Are you still friends with your friends from high school?
No. Well, kind of. I'm friends with one high school friend. We moved around so much that we ended up moving my senior year of high school. I tend to be a bad friend and lose touch with people. But I also figure that I'm not a very memorable person so I assume they don't remember me anyway. But I am friends with one girl (a fellow Army Brat) that I met my junior year.
3. Is there a catch phrase, cliche, or word that just drives you bonkers every time you hear it?
The Hubble has a tendency to start saying either sayings or words and he WAY over uses them so I end up getting pretty fed up with them. Once upon a time it was "it is what it is." And now, after coming home from Afghanistan, it's the word "kablah." Oh! And "inch'allah" which means "if God wills it." It's not that they are bad, it's just that he uses them for EVERYTHING!!!! He'll be telling me something and instead of finishing what he's saying he'll throw his hands about and say "kablah, kablah." Then the "inch'allah" is pretty much his answer for every issue now. We'll be talking about something important and if he's tired of talking about it..."inch'allah." It annoys me to NO END.
4. What is one thing that you think symbolizes America...besides Old Glory?
Expansive fields of green. The beautiful countryside. When I was a kid (and truth be told, even now) we made so many road trips, and I was one of the unfortunate kids plagued with motion sickness, I would just watch the scenery roll by. The fact that we can drive such distances and no matter what time of year you leave, you will see all types of weather throughout the country. I love it.
5. What are your 4th of July weekend plans?
We are actually planning a get together here at our house. We are going to grill some beer brats, some hot dogs, and some hamburgers. We are going to have some new friends over that we've met in the last 2 months of living here. And some of The Hubble's guys from our last duty station are here too so hopefully they will stop by. Sparkler's in the front yard for the kiddos. Maybe a fireworks show if we aren't too...ummm...full?? But you know I mean wasted there. LOL!
So there ya have it folks. Those are my 5 (well, 10) questions. I'm really liking these things so I hope I can keep doing them. Don't forget to head over to
My Little Life
and
Wife of a Sailor
...answer your questions and link up with their blogs! I can't wait to read how you all have answered!