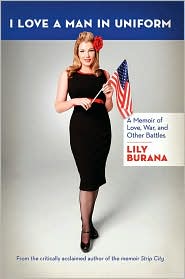 Title:
I Love a Man in Uniform
Author: Lily Burana
Publication Date: April 2009
Publisher: Weistein Books
Pages: 352
ISBN:
9781602860834
This review is my opinion and I have not been compensated for it in any way.
Before I get into the review of this book I need to give you a little back story. My friend Tammy called me up one day and told me I had to drop everything and read this book. She told me a bit about it and said that I would love it because Lily Burana is like a soul sister to us. Naturally, I ordered the book right away.
When the book arrived I told The Hubble about it. He was quite intrigued. Like he always does, he picked up the book and thumbed through it. He read a couple pages and told me he couldn't wait for me to read it because he thought I would identify with it.
Well, this went on for a couple days until I suggested that he go ahead and read the book himself. He did. He loved it. When he was finished he proclaimed "I give her permission to hang out in our library." And so it was.
Okay. On to the review...
Lily Burana: reformed punk rocker, child rebel, former stripper, Army Officer's wife. Wha-what??? If you are like me, you just had to do a double take there. But that's right Lily Burana is all of those things and more.
I Love a Man in Uniform is Lily's memoir of how she met, fell in love with and married Mike, her Army Officer husband.
But this is not simply a love story. This is not one of those gooey novels that make you feel sticky just reading it. This story includes a lot of self doubt, hurt, anger, sacrifice and loss.
Lily and Mike's story is like so many others. But what separates them is that Lily talks about it. She talks about the uncertainty of being a 'war bride.' She reveals the struggles with depression during deployment. She dives head first into the controversial topic of Post-Traumatic Stress Disorder (PTSD).
Lily never planned to marry a soldier. In fact, the day she met Mike she had no idea that was the moment that would change her life forever. But when love hits, it hits hard. There's no stopping it. That's exactly what happened to Lily and Mike.
In true military fashion, the courtship and marriage were on no one's time line but the military's. However, Lily would endure for the man she chose as her life's partner. She gave up her home, her security, her dream wedding, her confidence. Just to be married to Mike.
Lily has a voice that is raw, real and emotional. She leaves nothing out. She describes the scathing looks and criticism she faced from the 'higher ranking wives.' She offers a glimpse into the truth behind the 'perfect military family.' And she constantly runs from the 'Perfect Army Wife' and her never ending disapproval.
Through it all - the condemnation, depression, deployment and self hatred there is finally a chance for healing, acceptance and ultimately...happiness.
Lily's story is one that so many military spouses experience but very few are brave enough to admit. She is honest, revealing, heartfelt and genuine. This book offers merely a glimpse into the difficulties military spouses face on a day to day basis.
That being said, I realize that I cannot truly generalize. I identified with this woman so much that her story and hardships resonate within my soul. So maybe I'm wrong. Maybe other military spouses do not experience these same issues. But I have. I do. As have several of my closest military spouse friends. Do you? I challenge you to read Lily's story and find out.
I absolutely give this book 5 stars!!! 5 stars is probably a bit too low in my opinion.
And now I'm going to give you the opportunity to do so! In honor of The Hubble's love for this book and his upcoming birthday, I will be giving away a copy of the paperback book of this title to one lucky reader!
All you have to do is leave a comment to enter.
The deadline to enter this giveaway is 11:59pm on August 2nd.
The winner will be announced on The Hubble's birthday of August 3rd.
Good luck!
For Further Reading Check Out: