Today, if all has gone as planned, we should be doing the final walk through on our house here in Missouri. Tomorrow, we will be heading off to Texas!
While I'm engaged in all things "moving" I have asked some amazing bloggers to help keep you company. Today, I am pleased as punch to introduce you to The Annoyed Army Wife, though I'm sure she requires no introduction! We all already know and love her don't we?? (Even if she is always annoyed. LOL!)
Anyway. Without further ado, here she is.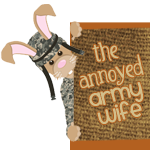 While Maranda and her fam move into new digs, I'm happy to be here to keep you all entertained. A handful of you may know me as the
annoyed army wife
. The husband, OccDoc, recently got back from a stint as a battalion surgeon in Afghanistan. I held down the fort with our two Chihuahuas (one skinny and one slightly…err…morbidly obese) and two rabbits (one older than dirt and the other weighing in at a healthy 18 lbs). I work part time as a massage therapist, but, really, does it even count as
work
? As I like to say I support the troops just not always the one I'm married to.
Anyway, enough intro stuff, a few weeks ago OccDoc and I found out our landlord wants to toss us out on our butts. Okay, fine, he just wants to sell the house we're living in. We're welcome to stay while he sells it, but I've lived in two properties that have been sold and I'm
NOT
going through
that
again. Alas, we might be moving again. Groan. Whatever, come on now, we all know that living the military lifestyle makes you
AWESOME
at moving, so this shouldn't be
too
hard, just annoying.
OccDoc and I are faced with finding a new rental home. We're quite picky when it comes to where we live, unless it's on post where you can't be picky, which is why we don't live on post. We want a pet-friendly house with an Allison-proof fence, Allison is the 4 lb Chihuahua and our smallest pet. That's where the similarities end. OccDoc and I each have our non-negotiables. And we each have a wish list.
My Non-Negotiables:
Dishwasher
Decent windows, that aren't drafty when you hold your hand up to the glass
Secure Looking Doors
A Room for the Bunnies (Yes, my bunnies have their own room in our house. Yes, they are that spoiled.)
Enough Room for the Furniture
A Decent Looking Yard
My Wishlist
Real Hardwood Floors some where in the house
Ceramic Tile, not linoleum tile
The Ability to Paint or rooms that are already painted a color I like
A Landscaped Yard with Water-Wise Plants
Enough Room to have Dinner Parties
OccDoc's Non-Negotiables:
A Garage for his Car
Enough room in the garage for his tools
A Power Source in the Garage
OccDoc's Wishlist
An Attached 2-3 Car Garage
A Heated Garage
A Garage with a Hydraulic Lift for his Car
Um, as you can see my lists and my husband's lists are quite divergent. The house also has to
feel
right to us. The neighborhood has to be somewhat decent without rundown, weed-ridden yards and floppy jalopies/hoopty wagons lining the streets. I know we aren't buying and we won't be there forever, but I want to at least like the place and not be embarrassed of my home for however long we live there.
What do you look for in a home? Do you and your spouse have similar or different tastes in home requirements?